HR "Heather" Kaiser Studio's
"Sunday Best"
​28"h x 17.5"w x 10"d
Ltd. Ed. 10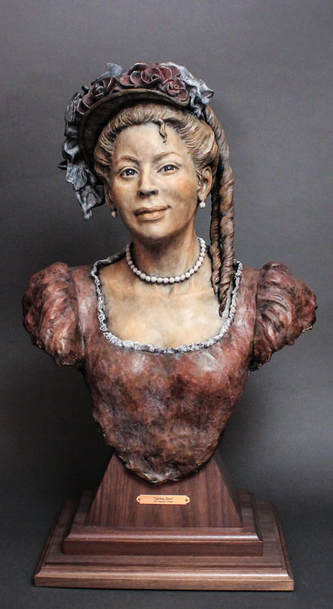 THE GUARDIAN
13"h x 7.5"w x 10"d, Ltd. Ed. 35
​Winner of the Women Artists of the West Online
​ALL SCULPTURE SHOW Second Place
With a watchful eye this stallion is the Guardian of his herd, keeping them together, ready to fight off other stallions or predators.
STEP ASIDE
22.5" h x 17"w x 16"d, Ltd. Ed. 30
---
Drovers had to rest the herds around midday and at night to give them time to graze so they could reach market with as little weight loss as possible. These drovers are dealing with land owners that don't want free grazers on their land.
---
​TREPIDATION
16.5" h x 24" w x 18"d, Ltd. Ed. 30
​This piece was inspired by the movie featuring John Wayne titled The Cowboys.
​Historically one of the methods for breaking a wild horse was to use a snubbing post.
​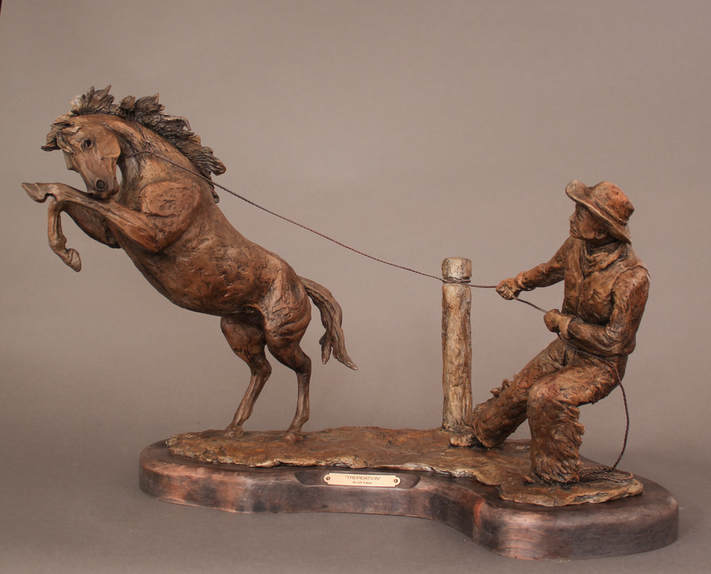 ​
---

SIZIN' UP THE DAY
16" h x 9.5"w X 5" d
​ Ltd Ed. 35
​
Best and Brightest Scottsdale juried show

This cowboy is taking his time checking out the situation and sizin' up the day.


LORD FORGIVE ME...16.5"h x 6" w, 11"d
​Ltd. Ed. 35

​

Winner of the Winter Oklahoma Sculpture Society Show 2013

In a quick step and headed for trouble, he already knows he's about to do something he's going to regret.
---
The Trail Drovers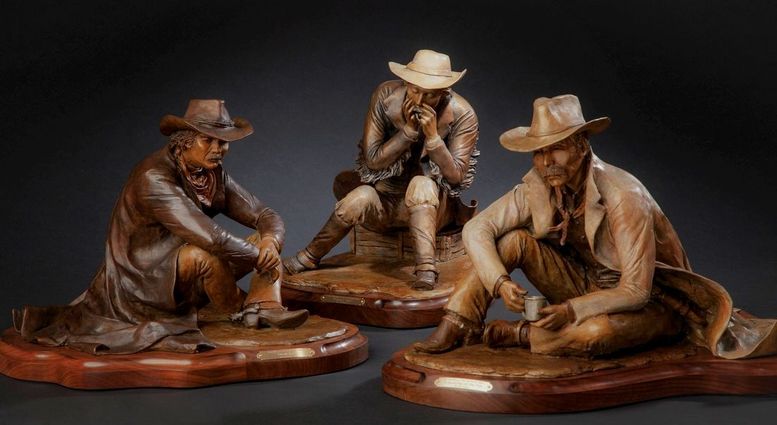 A GOOD DAY ON THE TRAIL
15"h x 17"w x 24"d. Ltd. Ed. 12
Winner of the Winter Oklahoma Sculpture Society Show

These drover's have bedded down the herd for the night and are enjoying a break at the end of the day.
BREAK TIME
14.5"h x 15"w x 20"d. Ltd. Ed. 12
PLAYING A TUNE

16"h x 14"w x 17"d Ltd. Ed. 12
---
---
ALL IMAGES AND INFORMATION COPYRIGHT HR KAISER STUDIOS.UNAUTHORIZED USE OR DUPLICATION EXPRESSLY PROHIBITED.